Professor Brandon Hamber
Director of INCORE
Cordially invites you to the next seminar in the
Accounts of the Conflict Seminar Series

Iratxe Momoitio Astorkia
entitled
'How to deal with our recent past by making important materials or sources available online?'

At 12.00 p.m. on Wednesday 5 February 2014
In MD008, Main Building, Magee Campus, University of Ulster
A light lunch will be served after the seminar at 1.00p.m

RSVP by by 29 January 2014 to Janet Farren, JE.Farren@ulster.ac.uk or tel 028 7167 5575
---
When we address difficult issues such as what has occurred during times of armed conflict or periods of dictatorial rule the question often arises to the type of material - oral testimonies, documents or objects - that should be used to give future generations a wide and varied view as to what has happened.
A further challenge lies in dealing with non-digital materials produced in the past - for instance those in paper form or photographic collections - which now have to be converted into new digital formats to allow them to be made available online via the new emerging technologies of the twenty-first century. This can create practical problems surrounding the issue of copyright or through the subsequent use or misuse of such material.
In this seminar Iratxe Momoitio Astorkia will explore these issues through the use of examples from the Second World War such as the Holocaust and the dropping of the Atom Bomb in Japan. She will also look at the Basque Country and Spain in terms of the Spanish Civil War and terrorist violence, and the troubled past of countries in Latin America such as Argentina, Chile, Guatemala, the Dominican Republic and Uruguay.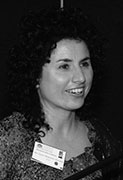 Iratxe Momoitio Astorkia: has been Director of the Gernika Peace Museum (unique peace museum in the Basque Country and Spain) since its creation in the year 1998. She has published several articles about Memory, the bombing of Gernika and the Spanish Civil War, about the importance of Art and Peace and about the Gernika Peace Museum in different books and magazines (from Spain and other countries).
She is involved in several International Networks (Vice-chairperson of IC MEMO (ICOM), member of the executive committee of the INMP (International Network of Museums for Peace), Member of AIPAZ (Spanish association for research on Peace), member of the International Coalition of Sites of Conscience, Vice-President of the Forum on Human Rights Education (Basque Country). She has been commissioned to participate in an expert group (2012) to design the content and viability of the "Instituto de la Memoria" (Institute of Memory) in the Basque Country.
---
Accounts of the Conflict will create an on-line digital archive which will offer long-term storage and preservation of a range of personal accounts relating to life in Northern Ireland and the border region during the period of the conflict.
Individuals, groups and organisations will be able to deposit digital copies of personal accounts with the new archive.
The Accounts of the Conflict project is a 2 year project funded by the European Union's PEACE III programme, managed by the Special EU Programmes Body.
The project will be delivered by INCORE (International Conflict Research Institute), based at the University of Ulster. Work on the project commenced in January 2013 and will be completed in December 2014.